Gent Wevelgem, a weekend of savage racing in the heart of Belgium Cycling country
by Peter Georgi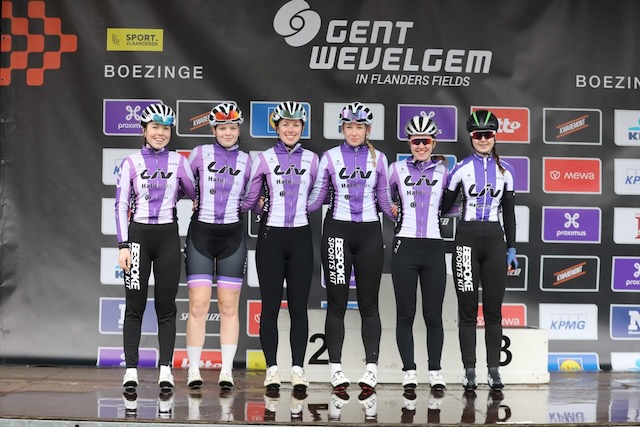 This weekend was the first trip abroad for the whole Liv CC Halo Films Junior women's team. In fact, it was the first time for a while that all the girls were together as some of them are British Cycling's Junior Academy, meaning they are often away with the squad. But here we were in great Air BnB accommodation.
Gent Wevelgem is a great race as there are 7 races, for all categories on the same day, from youth to the elites. Our team of Greta Carey, Tilly McKibben, Ella Jamieson, Awen Roberts, Niamh Murphy and guest rider Esther Wong have a range of experiences, and for Greta, it was her first trip with us and her first race in Belgium. What a weekend to start….
To say the weather could have been better is an understatment. For course recce day on Saturday we had 40mph winds and then on Sunday we woke up to continuous heavy rain. Getting clothing right was going to be key and it's fair to say that Sunday provided a great learning opportunity for them all!
How did we ride? Well I'm proud of them. The race was nervous, fast, difficult to predict and undertaken in extreme weather conditions. We had three riders in the top 15. Unfortunately Greta was caught in a big crash that meant she was unable to finish (she was not hurt, just massively held up) and Awen's bike decided not to stay functioning the whole race. However, all came back to the vans with smiles on their faces and telling stories of epic battles. But they had learnt things and were ready to go again soon. And this for me is the key.
In many ways, trips like this for juniors are not all about results, they are learning experiences for young riders and in many cases their parents too. This trip would not have happend without two groups, the girl's parents who support each other with organising and logistics and something special to cycling in the UK. This trip was supported financially by The Rayner Foundation as one of their Gateway trips. It doesn't pay for it all but goes a long way and more importantly acts as a catalist for us as team managers and a powerful focus for the girls. The Rayner Foundation exists to help young British riders to race abroad and as it says on their site, create opportunities far beyond cycling. Well if this weekend of fun, pain, cameradery, confusion and excitement is anything to go by, it does that very well.
Another part of the learning is who they meet, for this weekend my father came along. (He's the young one sat contemplating life in the pictures) A super fan of cycling and young riders especially, he has limited vision now but feels and loves the atmosphere of bike races. All the girls helped him when needed and made him feel welcome.
Finally, teams like ours aren't big but we have some good sponsors. Thank you Secret Training and Kreitler Rollers.